ICP DAS Middle East
1399/1/19
IR Remote Control System
Today, one of the problems in commercial/residential buildings is the presence of multiple IR devices such as TV, satellite set-top box, air conditioner, music player, curtain, kitchen hood, fan, etc., each of which has a separate remote control. One way to remove these remote controls is to use a touch screen or smartphone to collect all the IR signals inside the building

.
Advantages:

Easy IR remote equipment control
Expandable
Cost effective
SCADA System Support
Easy to install
Easy programming
ICP DAS has products for controlling remote devices that can learn IR commands through internal settings. In this application, an IR-712 product is used. Using this product, two IR outputs can be installed simultaneously at several points in the building, which cover all IR devices. The IR-712 has the ability to connect to HMI touch screens, so you can control all available signals using a touch screen mounted on the wall. You can also integrate the lighting systems, door switches and a number of analog and digital signals into this HMI touch screen

.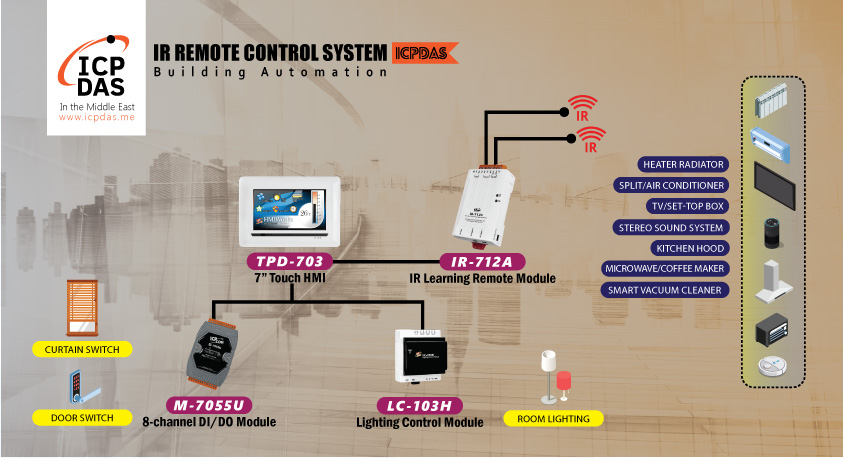 One of the advantages of this solution is the control of different signals in a touch screen, which can create different scenarios according to the needs of the residents. For example, one scenario could be sunset scenario, in which the TV is turned on, the room light is increased, the curtains are closed, and the temperature is adjusted to 18 Deg

.


The system also has the ability to connect to the SCADA network via a Modbus protocol. This is useful for commercial or industrial buildings.
ICPDAS products in this Application:​
Other Applications:

Building Automation: Control of Boiler Room
Factory Automation: Integration with the SCADA Network and control of the Heating Ventilation and Air Conditioning (HVAC)